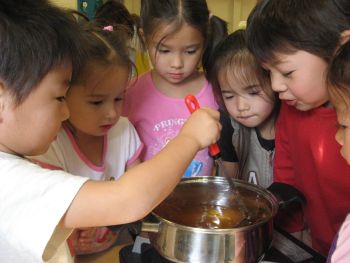 New Hope School has an occasional Saturday English class for children from 2.5 years old through first grade. The time is from 10:00AM to 12:00 noon.
Contents
There is a different theme each time. Classes include songs, games, stories, crafts, and a light snack.
Fees
The cost is ¥2,000 per child. Additional siblings from the same family can join for ¥1,000. Prices do not include consumption tax, which will be added at time of payment.
Class Size
Up to 25 children.
Parents are welcome to attend, and may be required to participate with children who are not ready to be by themselves in a group.
Dates
May 18, 2019
June 15, 2019
July 20, 2019
September 14, 2018
October 19, 2019
November 16, 2019
January 18, 2020
February 15, 2020
March 14, 2020
Dates are subject to change.
Please contact us for more information or to make a reservation.