Sign-ups are now open for the summer program at  New Hope. Join us for stories, crafts, games, Bible time, and other activities—all in English.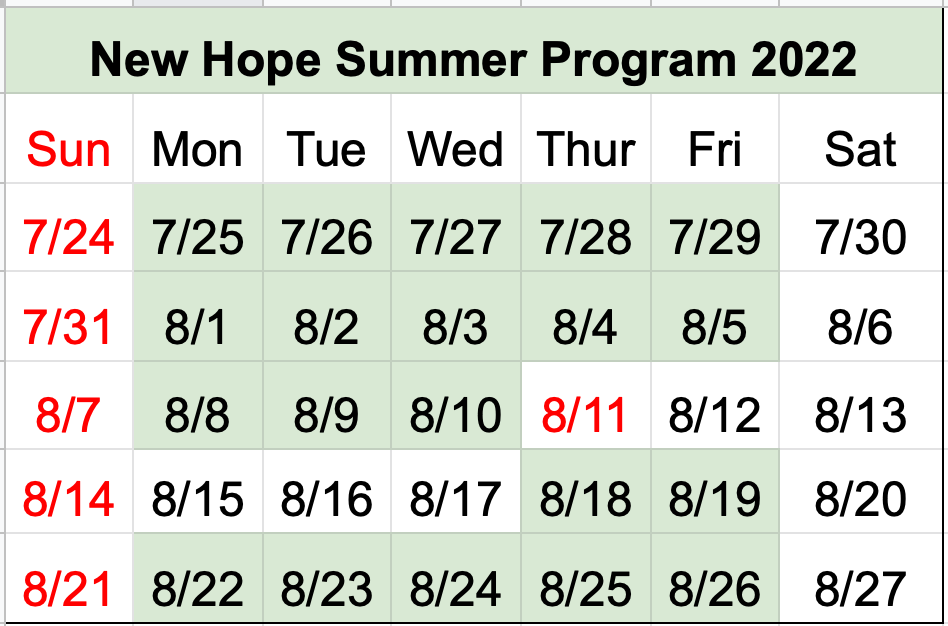 Dates and Times: August 2-27, weekdays (except for August 9-13).  9:00am to 12:00pm (drop-off from 8:45). You may apply for any number of days, from one to all fifteen.
Ages: 3-6 years old (through kindergarten). Sorry, but due to social distancing measures, there will be no elementary program this summer. We'll try next year!
Fees: ¥3,000 per day. Payment reserves your child's place. All fees include consumption tax. Refunds available if parents cancel in advance. Fees will be refunded if the school is forced to cancel.
Apply with a paper application form or online at this link. Hurry—this summer program will fill up fast!
Bring a mask, a drink, a towel (to be kept with your child at all times), indoor shoes, and a change of clothes. Also, bring rain gear (boots and raincoats, not umbrellas) for any day that it might rain. (We will go out to the park every day, rain or shine.)
We will be taking extra precautions to prevent coronavirus and other infections, and we will ask you to do your part too. (Please see the application form.) However, we cannot guarantee that there will be no infection. Thank you for your understanding.
Feel free to contact us with any questions you may have.
Let's have fun!