12 months to 3 years old

Mommy & Me is an excellent way for you and your child to share their first English experience. This class is taught by New Hope Preschool teachers who adjust the preschool theme for the week to a level that engages toddlers.
You and your child will enjoy songs, colorful materials, activities, and stories.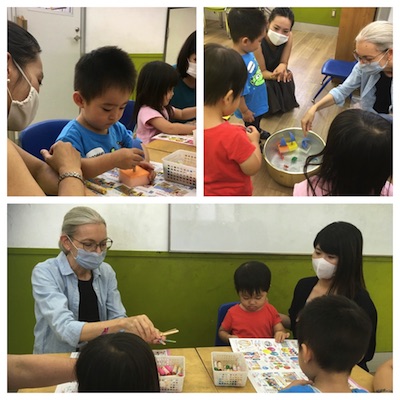 Benefits of Mommy & Me
Learn fun, educational songs and activities that you can use all week long.
See your child grow in skill, confidence, and ability to concentrate.
Make friends with other parents and toddlers.
Receive parenting support from veteran teachers and parents.
Get a taste of international preschool education to see if it is a good fit for your child.
From age three, children can step-up to New Hope Preschool with an enrollment fee discount.
Details
Age: 1 to 3 years old
Time: Once a week, 60 minutes
Class Size: Up to 6 families
Fees: See fee schedule.
Click for calendar.
Download an application or contact us for more information.